Did you know that about 1 in 50 insured homes has a water damage claim each year? Water damage results in thousands of dollars in claims, and costs of repair on your home and property can be pricey. There are several factors that will affect the costs of water damage repairs, and different categories of costs. In order to understand the water damage repair process, it helps to know the breakdown of damages.
Several factors need to be taken into account when determining the cost of water damage repair, including:
Size of the affected area
Type of water damage (category 1, 2, or 3 water)
How long the water has been present
Extent of damage
Cost of labor
Cost of materials
Location
These factors will fall into three sets of costs:
1. The cost of water removal, cleanup, dehumidification, ventilation, and decontamination
2. The cost of structural repairs
3. The cost of replacement of personal property
The Water Types
The more square footage that has sustained water damage, the more costly repairs will be. Depending on the type of water that has entered the area, the cost will be more or less expensive. Category 1 Clean Water damage is the easiest and least expensive to cleanup. Gray Water, or Category 2 Water, may have chemical contaminants that makes cleanup more expensive. The third category of water, Black Water, is grossly contaminated water and is deemed hazardous to health.
Along with the type of water, the amount of time the water sits will also affect repair costs. The longer water sits and moisture is present, the more damage will be sustained. Delaying drying and repairs after water damage could end up costing thousands of dollars more because water damage escalates very quickly.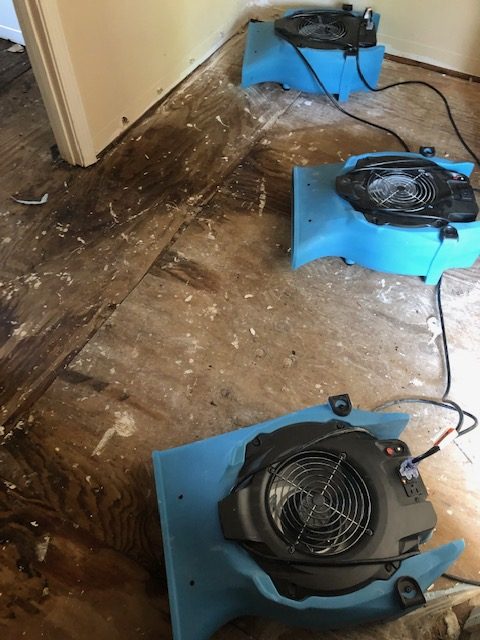 Act Fast
Upon finding water damage, quick action should be taken to get the water removed, dried, and cleaned up. Professional restoration crews will come and extract the water using pumps, and then begin drying. With commercial grade air movers, and the use of dehumidifiers, all the water and moisture can be completely removed from the area. The water extraction and drying labor costs will be given once the restoration team has inspected the area, extent of damage, and water source. After drying is complete, repair and rebuild can begin.
All of these costs add up, and it can become a pricey affair to repair water damage. Because your home and possessions have more than just monetary value, it is important to make sure the right people are handling your water damage cleanup and repairs. The right restoration team can make all the difference in saving you time and mitigating costs of water damage repair. We will work directly with your insurance company on covered losses so that your property can be restored back to normal as quickly as possible. Don't leave repair expenses to anyone else, let us ensure that you are taken care of the right way while mitigating repair costs as much as possible.